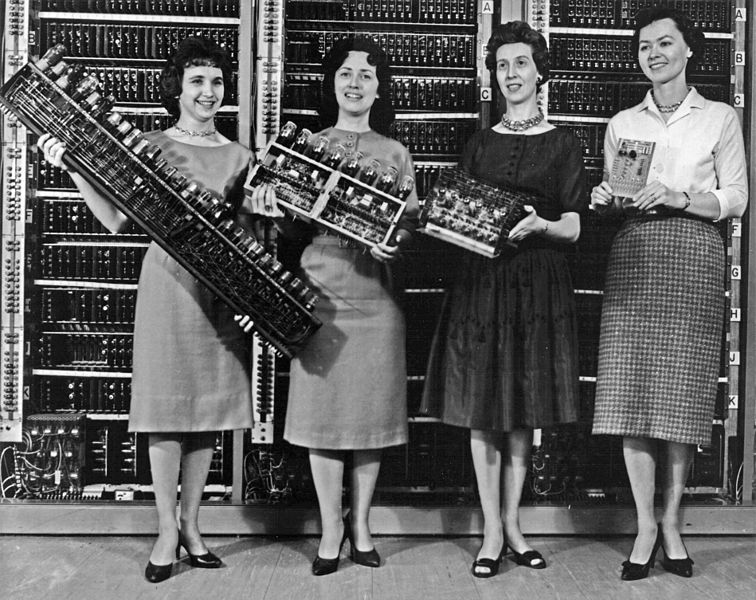 I was beyond thrilled when my third-grade daughter signed up for Science Club as her choice of after-school program this year. Make crazy experiments that will impress your friends! was enough description for her. While she is no stranger to the ballet barre and My Little Pony marathons, she calls science her favorite subject. Her most recent library treasure is the Mythbusters book of experiments, and all I know about it is that I'm supposed to now go out and buy corn starch and a drop cloth, and I'm a little nervous.
What surprised me, however, was that Thalia told me she's only one of 6 girls in the club. Out of about 30. And this is in Liberal York City.
It never crossed my mind that this wouldn't be a popular class with girls, especially with one of the most coveted teachers in the school.
Certainly there are a number of reasons that girls don't pursue science/technology/engineering/mathematical (STEM) related passions–gender bias in the classroom (yay, my mom gets a quote in that piece), toy stores that put the science kits in the boys' aisle, computer classes overwhelmingly targeted to boys, lack of visible female role models. However that is where my agreements with The Kernel Editor Milo Yiannopoulous' The Lady Doth Protest Too Much takedown of women in tech starts and ends.
Oh, this article is juicy my friends. SEO'd, maximized for quotability,  linkbait ready–and I'm biting.
The "women in tech" experiment has been a disaster, he writes. Then goes on to explain that the tech industry is not sexist. In fact, not only is it not sexist but it's one of the most welcoming meritocracies of any industry I've ever worked in. And so shot through is it with well-meaning, bien pensant metropolitan liberalism it's in fact perpetually bending over double to provide quotas, positive discrimination and excess airtime. . . .
Wow. 
The only thing more awesome than bearing witness to White Male Privilege (a phrase he claims he is unfamiliar with) is British White Male Privilege.
Milo believes that the women in tech movement has done damage to gender equality (uh…) then goes on to compare women in tech to "hysterical shrieking activists" of the climate change movement, only one paragraph before explaining that there is no sexism in the tech industry.
When was the last time you heard a man called hysterical and shrieking?
(What? It's not sexist if it's true, Liz. Duh.)
I'd also like to point out that the protest photo The Kernel used to illustrate the portrait of these awful wimmin tech evangelists, is actually Hossam el-Hamalawy's photo of women (and men) chanting for Egyptian regime change in Tahrir Square in 2011. To stick it under a snarky little headline about "ladies protesting too much"…well, I'll let you decide on the thoughtfulness of that decision.
Oh you women. Always complaining about something.
Here are some other ironic gems about women in Milo's (mind if I call you Milo? Because I feel very close to you right now, Milo…) hysterical, shrieking screed on the lack of sexism towards women in tech:
*Few women in tech organisations actually do anything about women's education. The majority of them certainly do a lot of talking about it, of course. And boy, do they love to talk.
*Women simply don't want to do these sorts of jobs. But you're not supposed to say that…because it makes them question their own femininity.
*There's nothing wrong with [female tech activists], of course, besides their thin skins and attitude problems
*Poisoning a generation of men by inflicting on them inferior candidates via quota can only ever stoke resentment and confusion. 
*One in four technology jobs in the US are already held by women. That really isn't a shameful statistic.
*I do find male women in tech activists deeply mystifying.
David Wescott , Vivek Wadhwa, Anil Dash, Guy Kawaski: You are DEEPLY MYSTIFYING. If I were you, I'd put that on your LinkedIn profiles right away because I would endorse you for that skill in a heartbeat.
Also, it will look better than "dickless wonders" which is how Milo previously referred to you, only now with 1.65% more remorse about it.
It's worth noting as well that the author feels that women in tech are "uninteresting" as a group of entrepreneurs to care about, and that it's of far more value to consider underrepresented minorities or gays. As if it's an either/or situation. Then again, I'm not so sure there's any "underrepresented minority male" coder who has been threatened with torture, death and gang rape on a mass scale by peers in the tech industry, nor do I hope they ever are.
So maybe we should keep discussing women in tech after all. Even if it is uninteresting.
In any case, I have a plan.
I kind of like it.
I cordially invite Milo to walk the aisles of CES with me in January. Dressed like a woman. Tootsie style.
I've seen his pictures. He's pretty. I think he could pull it off.
I'll even provide a jaunty scarf.
I guess I'd like him to witness first-hand the "lack of sexism" at the conference in the proliferation of booth babes, the dearth of women keynote speakers (despite the numerous women qualified to speak about tech ), the reps who ask me if perhaps I can't work their craptastic iPhone charging case because I'm afraid to break a nail.
The traditional female uniform of CES. Ass cheeks sold separately. 
I invite him to sit down with Old Boys' Club VCs and see if he makes more or less headway than he would with his penis not taped down under his legs. Or whether he can get  a meeting at all. I invite him to pitch the launch of a groundbreaking and now successful female-targeted tech site to a major tech news blog and see if they have any interest in covering it, or whether they're just too busy pointing out that People's Sexiest Man Alive issue is now on Facebook.
Yeah, there is sexism in science and technology careers. Crap tons of it.
And I'm tired of people who don't see it themselves denying that it exists.
Claire Cain Miller summarized a recent study in the New York Times this year writing, "The rate at which women leave the tech industry is double the rate of men…the reasons include lack of promotions, time away from their families and aversion to company cultures."
So I think we're going to keep talking about women in tech. We we will keep calling out the Twitters of the world for underrepresentation of women (and yes, minorities) in the upper echelons, cheering on the Angela Ahrendts, trying to make progress even and especially when we're told it's silly and uninteresting, and as parents, remembering to buy our daughters' friends science kits and computer programming games for their birthdays too.
We're going to keep trying to figure out why girls' math and science grades are higher than boys', and yet something is keeping them out of STEM professions later on; or if they do enter them, they leave, and not because they're unqualified quota-fillers.
Hey, maybe with my experiment, Milo will even help me figure it all out. Never know.
I can only tell him he might find it nice to be on the right side of history on this one.