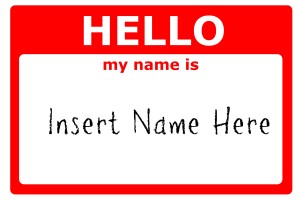 I was reading a post my dad wrote (my dad blogs–I know, so awesome) about business email etiquette and how fluid and confusing it can be. I know that those of us who entertain a half-billion or so pitches a day always joke about some of the worst ones and let me tell you, after 8 years of receiving them I am wayyyy beyond getting upset if someone addresses me as "Dear Blogger."
Time has softened me, and I am increasingly forgiving of mistakes, because we all make them. Even if I still die a little every time someone tells me to share something "with your audience of mom's." And admittedly, I don't know if I'll ever get over a stranger addressing me in a salutation as "Yo!"
Still, I look at as many PR pitches as I can, trying to dig for the gems, and there are some that just kind of stand out from the rest. For the wrong reasons.  Sexy Girl Jewelry and Vaginal Moisturizer for Mother's Day may still be my all-time favorites, but I think a few emails are gaining on them.
Insult me and I'm yours forever

Hi Liz, Is your hair a frizzy mess? Knots for days? It's not a cute look.
What to expect when you were expecting 9 years ago
Hi Liz, The side effects that occur during pregnancy can be unbearable. Carrying a child means constant body changes. The extra weight creates more work for the muscles and increased stress on the joints. As a result, common symptoms associated with pregnancy are swollen feet, leg cramps, back pain and more. 
Personal = Win
Hello Insert Name Here, I have been a follower of your site for some time now and truly respect your position as an authority in the mobile field.
Your time is worth one part of one pair of jeans.
Hi, I wanted to email you to see if you would be interested in hosting a [redacted] event. As host, we will gift you a free jean!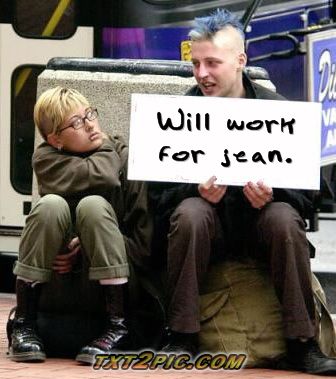 It's been foreves maybe because I have no idea who this is.

Hey there! Ella here. It's been foreves…
If only we could find a way to get kids excited about texting…

Teens are sending an average of 60 texts a day. What are they talking about anyway? Regardless of the mystery that is teenage texting, [brand] decided to start rewarding them. Today they've officially launched an app that will allow users to start gaining points for each text they send.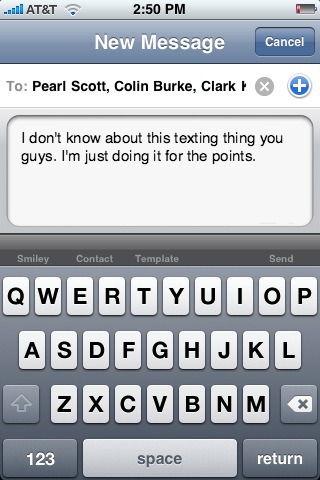 When mixing metaphors crashes, burns, and releases toxic fumes with lasting effects
Urinary incontinence, a topic once reserved for the older woman and mother, has been given a Brazilian butt lift. 
Something tells me she didn't actually see the movie
The popularity of the recent film "The Bling Ring" made many fashionistas rush to their jewelry boxes to make sure they have enough bling rings of their own! If you're like me, you might have discovered that enough is never enough and these is always room for additional statement finger décor.
I don't care…I love it!
We are only one month away from Mother's Day and [salon] has special offers…Get your sexy back by taking care of your special place with a Brazilian wax and the "I Love My Muff" kit that encourages all women to "love yourself, love your muff."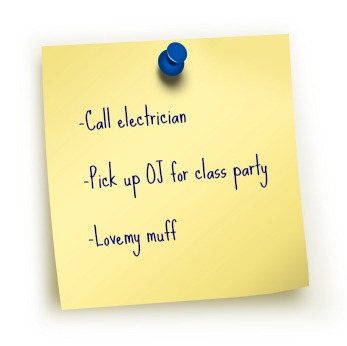 Not sure but I think it has something to do with a resource
If you like it, it would be great to see it listed as a resource on your page for those interested to refer to. I appreciate your taking time to check out my resource. Would you happen to know anyone who would be interested in my resource?
You HAVE to wonder. You just have to! You can't stop wondering!
Embarrassing alert! Kate Middleton was caught yesterday in public sporting an uncovered head of gray roots.  Since it's been the buzz around all the celebrity sites, you have to wonder where her colorist was.  If royalty who have live in beauty experts at their beck and call can't even seem to fit in a dye touch up when necessary, how are the rest of us supposed to do it? 
Oh, you boys and your electronics.

As the warm weather approaches, outdoor games become the outlet for all young boys and girls who want to play in the sun. For the indoor kid, action-packed fun will get boys away from TV and electronics, while girls can enjoy dress-up collectibles!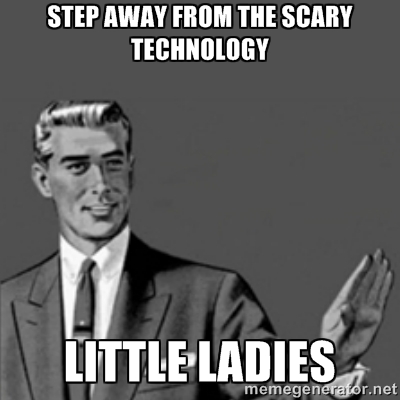 Shopping kills.
We wanted to reach out to you on behalf of our client, self-defense specialist [name] and offer you her tips on how to stay safe on Black Friday.
Well, I tried asking nicely first.
If you are divorced or legally separated and your scheduled parenting plan says your children will be spending the holidays with your ex-spouse, you might be wondering how you can make some arrangement to still see your children. [One idea:] Offer to babysit the children.Your offer could be especially welcome during the holidays, as it is likely that your ex has parties to attend and shopping to do. Tell your ex to enjoy a well deserved "night off". If your ex is not open to accommodating any of your requests…you can always elect to file a motion for modification of child custody.
It's always so hard to come up with a fresh International Women's Day gift each year
Victoria Milan, leading extramarital dating site for married and attached people, is bracing for its own International Women's Day celebration…Women prefer having an affair to receiving a gift for International Women's Day.
What? She's just really really hard to shop for.
This Mother's Day switch up the usual card and flower routine with something mom really wants – pampering products [like our] eye wrinkle remover and acne cream.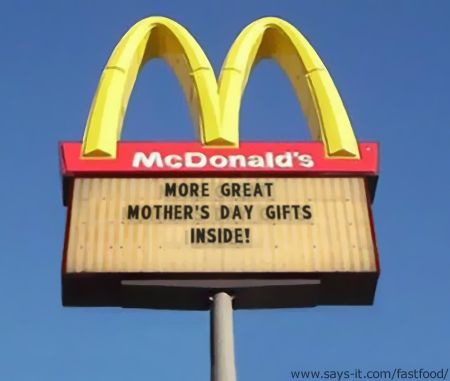 I actually kind of want to do this
I am a freelance entertainment blogger and am working on a new project in preparation for John Stamos' upcoming birthday…Do you have any John Stamos topics you'd like me to cover?
As for the Atheists…you're pretty much screwed.
[Book] is a survival guide for the millions of families who live in a "blended" situation. The book asks if two families can ever learn to live together in peace and answers with a resounding "yes—with the help of God!"
When never means sometimes
Camis and pushup bras are never a good idea for pre-tweens.  But if they are going to wear them, remember, they… should be worn under something.
You picked me! OMG!
Liz, [brand] has selected you to assist them with their campaign….their will be a detailed letter explaining the parameters of the campaign.  Essentially, they will be sending you a [branded] T-shirt that they would like you to [wear and then] post a photo of it to your site, informing your readers about us.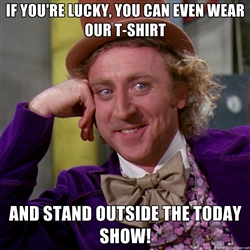 Anything else I can do for you? Fill out your timesheets? Maybe pick up your dry cleaning? 
Hi! We're preparing for [brand launch] and would love you to post about this as soon as possible. Please include keywords like [lots of keywords here]  then when it's posted, please send us the link. Social media shares are appreciated! Also, please let us know how much traffic your site gets.
Clearly a pitch with my name all over it.
To be considered for a starring role in [reality show] you need to show us that you are that instantly adored, superhot, proto-superstar with lots of drama going on in your life…This is the opportunity to prove you've got the attitude and the commitment to pull off the ultimate vanity lifestyle ensemble performance production.