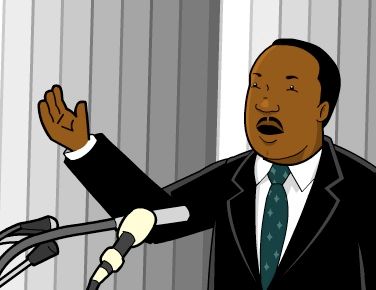 Today, the kids and I had a good talk about Martin Luther King Jr., what he did, and why we honor his memory today. Of course most of this came as a result of  this excellent suggestion on Cool Mom Picks to watch the MLK Brainpop JR animated video.
(Thanks Christina, I can always count on you homeschoolers to know every educational tool on the web.)
Afterwards, I asked the girls one thing they learned from the video.
Thalia said, "people with brown skin weren't allowed to sit on the bus where they wanted and he made sure that all people could sit anywhere they wanted."
Sage said, "He went to Washington and lead a marching band!"
She was pretty impressed with that.