Yesterday I discovered the masterful, completely engaging and made-for-sharing article, Generation X's Journey From Jaded to Sated in Salon and haven't stopped thinking about. Then again, I am squarely in Generation X.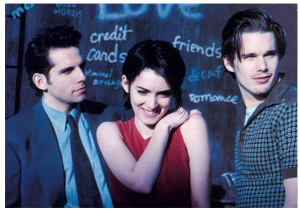 Just as author Whitney Collins describes, I do remember what life was like before REM, never slept with a Care Bear, survived high school with craptastic hair products and no pedicure ever save for my Junior Prom, was terrified by AIDS and Ronald Reagan's finger on The Big Red Button (am I the only one who was traumatized for life by a required viewing of The Day After?), watched Martha Quinn and Nina Blackwood on MTV (not so traumatizing), and sat glued to the first season of The Real World while trying all season long to determine 1) exactly which Soho apartment they were living in and 2) whether maybe Eric Nies might date me.
I also have had pets with people names and yeah, I wanted to be Nancy McKeon in Facts of Life. Guilty as charged.
Also, I remember it all in great detail. Without notes or journals. I'm weird that way.
I have spent a good amount of time in colleague's offices and in private Facebook streams trying to describe and defend  just why Millenials as a whole are so challenging in the workplace. Not every single teenager of the 90's is, of course, but a enough that yes, we old Gen X folks (to say nothing of the Boomers) shake our fists behind their backs, wondering why they heck they feel so entitled to shuffle into work around 11 and demand promotions three months out of school.
But, but…I got straight A's in college! My mom called the dean every semester and made sure I did!
(Oh, I am so teasing. Don't try to take me on, Gen Y friends; I grew up on Star Wars and know just what to do with a Light Sabre. Also, my knees aren't what they used to be and I will probably get hurt.)
I think it's why I'm so struck by the very first premise in the article that describes just why my generation is generally so "Zen" and our mantra less "Me me me" than "Meh meh meh":
We like work.
I've never been able to put it in those terms exactly, but the author nails it in three simple words. And I wonder how this is going to impact the kids we're raising.
I've generally enjoyed my jobs, thanks in part to partners like Kristen Chase on our website, and bosses like Greg DiNoto in advertising I've loved feeling the pride, autonomy, growth, ambition, contentment they brought. Though not often all at once.  It's also how I feel about blogging and writing–I like to write. I enjoy the process and not just the goals.
We were defined as slackers, but we always knew we weren't slackers, not really. We were working hard. Really hard. Only we did it in bluejeans and never for the Mercedes or the Gordon Gecko living room suite.
In advertising, there are always some campaigns that get away; the ones that you should totally produce but for whatever reason they never make it past the approved comps in the client's office where they languish until finally someone in authority (Boomer ahem) tells us to give up and move onto a more lucrative client. One of those that still sticks with me, was a non-profit campaign for City Year I worked on with my partner at the time, the now faaaaaamous Wade Devers (hi Wade!) in the early 90's. To this day, I still remember one of my favorite headlines:
The MTV Generation has the ability to become so much more. For one, going down as something more than the MTV generation. 
It was prescient.
And dammit, that ad should have run.
Of course I can't help but think which of our values we're passing onto our kids, and (aha) which will stick, for better or for worse. What will the next generation be like? Will they, find the joy of working as we do, be satisfied with satisfaction, or, as the Salon author describes, continue with the current zeitgeist marked by an insatiable quest for fame at sometimes steep costs?
Thanks for nothing, reality TV.
As for my people, fame was a different thing. Models were on the covers of magazines, not TV stars and talk show hosts.  "We fantasized about becoming Flash Gordon or Pat Benatar," Collins writes, " but adults told us, and rightfully so, that our fantasies were nothing more than pipe dreams. Thus, we never clamored for a spot on a Nickelodeon show; we just hung our posters of Bo Derek and Larry Bird and wished them well in their alternate realities."
The thing that differs for our kids however, the HUGE massive, undeniably permanent thing: The age of the Internet.
We can talk about what values we want to instill but we could inadvertently be counteracting them by digital age necessities. Parents already have created a lot of our kids' choices for them, in terms of privacy versus public personas. Raise your hand if you shared your sonogram photos on Facebook.
Now raise your hand if you shared them every week.
How about their first steps? First teeth? First words First crushes? First public humiliations, medical diagnoses, social challenges? It's not that it's wrong. I think in many ways it just is these days. But how will it impact them?
Will our children retreat into privacy, rebelling against the overshares and tagged photos and Google-able everything in the world about them? What will it mean when they are growing up with their personal URL, Pinterest board, Facebook account and Instagram feed already saved in their name by their forward-thinking parents?
It's also crossed my mind which generational mantra the babies of the early 2000's will be saddled with, since "me me me" and "more more more" and "meh meh meh" are all now officially taken.
"May may may?" 
(Hey, they could grow up really polite. It's possible.)
I  freely admit that I hope that my kids become inoculated from the fame-at-all-costs bug  before they are old enough to discover Snapchat and the seedier side of Vine videos. I hope that even if they do like seeing their childhood photos online,  as adults they can still find satisfaction in their work and accomplishments unto themselves.  I hope they don't think they are all special, or that everyone is entitled to a trophy just for showing up. I hope they don't expect me to write a scathing letter to the teacher when they are the only kids in Glee club who didn't get a solo. But I hope they do know I will love them unconditionally, even if they bring home a B-. (Not that we won't talk about it first.) And I especially hope that they will more to offer the world than a digital graveyard of regretful selfies and a YouTube channel with 37 subscribers.
I guess, in totally typical and selfish fashion, I hope that our kids are the best of the things we like about ourselves. And yeah, I say that as a totally biased Gen X who is indeed meh meh meh in lots of ways except for two.
And they're pretty cute right now if I do say so myself.