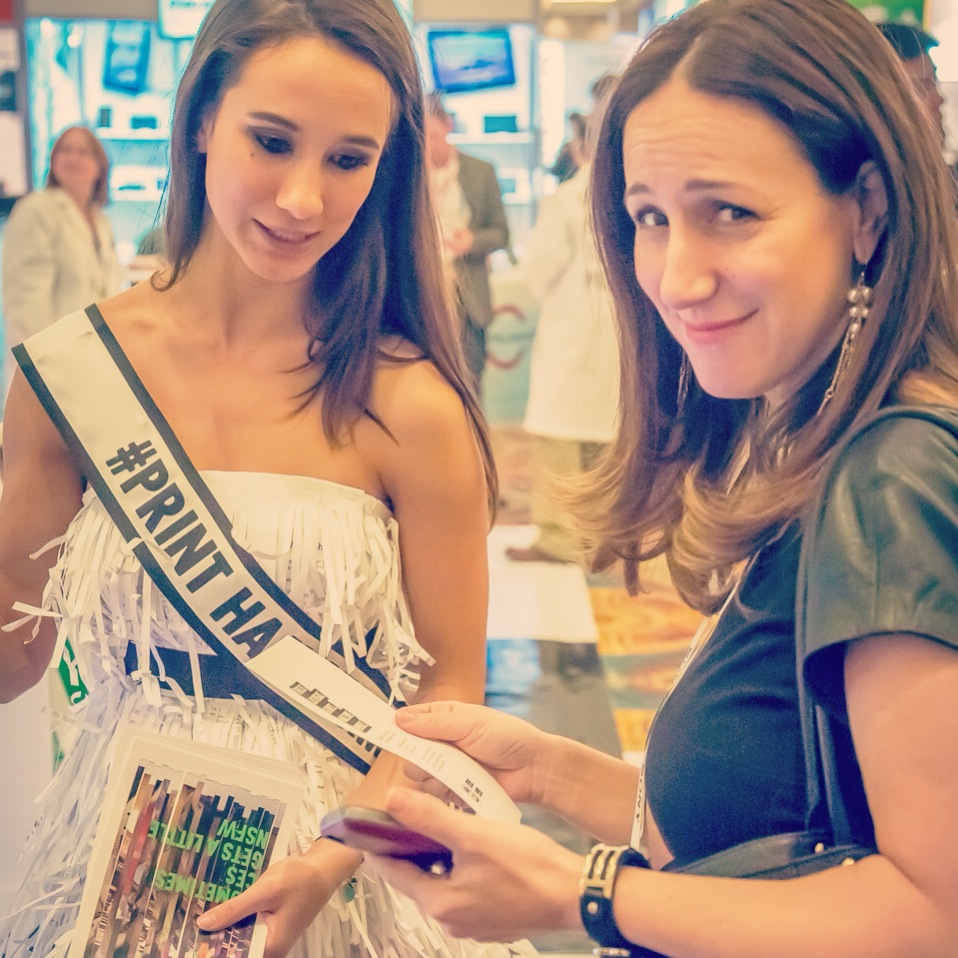 After my 2013 experience at the International CES, this year I knew what to expect. I was armed–at least with a camera–and ready. I was prepared for the bizarre world of trade show booth babes.
(And by the way, if you require more PC terms than "booth babes," you may think of them as…I don't know. Hostesses. Models. Stewardesses. You pick. I'm easy.) 
My Twitter and Facebook streams blew up with questions about them last week; and suddenly I felt myself the unwitting Booth Babe Overseer of CES, somehow responsible for documenting and snarking on the short skirts, the go-go dancers backlit to reveal everything under those short skirts, the mermaid costumes, the tranny stilettos, the  women dressed like dogs to promote dog cams.
Sexy dogs.
But something strange happened when I actually got to the show. I couldn't stop asking myself, why? Not from a feminist (or really, humanist) perspective, but from a marketing perspective.
Why, in the presence of an increasing number of female tech publications,  female tech influencers, female tech entrepreneurs, female tech leaders, are men (presumably) at these companies still thinking that printing your URL on a model's ass is somehow the smartest possible way to drive business?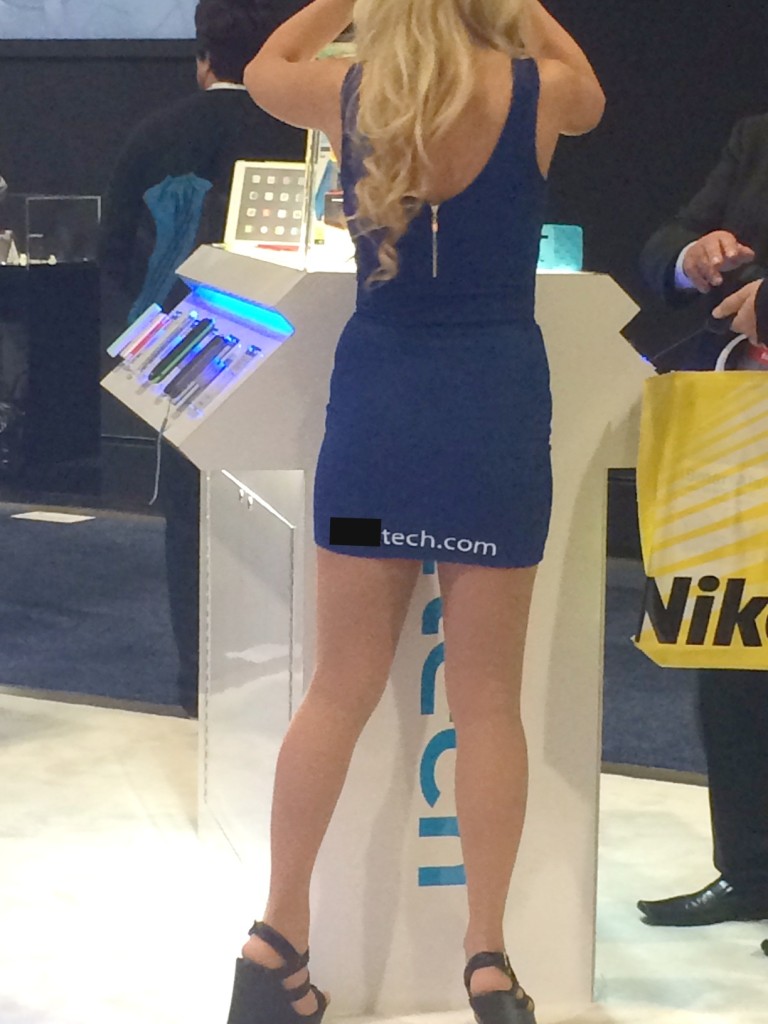 "Hey Fred, here's an idea! As long as all the fellas are looking there anyway…"
Now let me be clear that I don't fault the booth babes; it's a living. Also, a few of the women really knew their stuff. Shredded paper girl up top? She was smart, she stuck to the script, she didn't start mumbling because having to talk to a woman threw her off. I'd hire her, although I'd probably give her something  more professional to wear than something stolen off a coffee shop bulletin board. Also, I'd feed her a sandwich.
Still, models like her were a minority. There were plenty of booth babes I encountered who were way more interested in their nail art than their clients. Let alone their clients' potential clients. Others just got plain nervous when I approached the booth; without flirting or gratuitous cleavage-flashing in their arsenal of tools, I had the impression that it left some of them unprepared.
Two women, tasked with the super challenging job of explaining "cute USB drives" could barely get a coherent word out about the product. I think they may have even referred to them as UBS drives once.
Several others looked so miserable behind the booths by Thursday, I felt bad for them more than anything. No doubt it had something to do with three straight days teetering on platforms on the hard convention center floor.
Think she got the bandage from falling off her shoes?
I don't think this is just because I'm a woman, but please, marketers, pleeeeease: give me a passionate, knowledgeable person to learn from any day. A product developer, a brand manager, an engineer, a seasoned PR rep.  Hell, one of my favorite experiences was chatting with the two Wayne's World wannabes who were so high on whatever, that their pitch about their headphone company was the most adorable, passionate, authentic thing I saw all week. I just wanted to order 40 earbuds and hand them each some Quaaludes, then stroke their sweaty heads while they came down.
(It was also cute when they sized me up, switched off the electronica that had been blasting, and assured me, "it's great for listening to…you know, Pink Floyd." I'm grateful they didn't also call me "ma'am.")
So. If the babes/models/hostesses aren't going to be as sharp or knowledgeable as anyone else in your booth, it brings me back to the question…why are they there? Are they making sales? Are they bringing actual customers or journalists into the booths who want more than pose for pictures with them and fantasize about them later that night? (Sorry. True.) Are they presenting the company in the best possible light? Are they really getting a small business press that might otherwise go ignored?
Or worse, do they convey that the brand has nothing else to offer but a little spandex-sheathed eye candy? Because that's kind of what I was getting from those brands.
Let's just say the astounding line to play with the new Parrot AR Drone Quadricopter had absolutely zilch to do with any exposed body parts whatsoever.
The hot new accessory in Vegas: ass cheeks. Damn, left mine at home.
I also wonder whether the tech companies even consider whether they'll alienate potential customers with this tactic–and not just women, by the way. I saw plenty of men looking wildly uncomfortable when models approached them, or even annoyed that they weren't talking to someone with more authority. Go figure; when you have 1.85 million square feet of exhibit space to get through, maybe you don't want to waste some of your time talking with tongue-tied girls about "UBS drives."
I've asked around and there are a lot of theories about why booth babes still exist: People who don't know any better and assume that's just what you do. People who hire a trade show company that insists, "ya gotta get a girl! It's Vegas!" People who think it really is a reasonable way to draw attention to their booth. People who are stuck in the 1970's. People who are unaware that the trade show floor isn't just filled with horndog bachelors. People who think all press is good press.
In fact, last year there was a swarm of controversy over an accessories company that used fully naked women covered in body paint to draw attention to their booth–which of course they received in spades. It wasn't the women that turned me off from the company, though; it was the way the company responded to criticism on their Facebook page, attacking anyone who criticized their stunt (mostly women), deleting all dissenting comments no matter how thoughtful, and refusing to take any responsibility for the fact that, inadvertent or not, they alienated a whole lot of people. Still, they stuck to their guns, they insisted they were in the right, they repeated the "screw 'em if they can't take a joke or a bunch of naked women" mantra in as many forums as they could, until the tech press lost interest.
Then again, despite their protests, I'd say deep down the company knew they hadn't made the best choice. Because this year, instead of topping last year's stunt with something more outrageous, their 2014 CES booth was decidedly low-key, with  products more central to the display than any women.
Sure, there were still models there. Only this time, they were all wearing actual clothing.
Progress.
(Edited to add: Thanks to Karen Walrond who shared this Tech Crunch article with me: Booth Babes Don't Convert. So there's that too.)