This week I had a good time putting together a contribution for the Amex #passionproject tumblr (which is awesome, by the way): 10 classroom rules for students of any age. I think there's a lot of good stuff in there, some of it familiar, some of it less so. But my favorite is definitely #9. Smile at the new kid.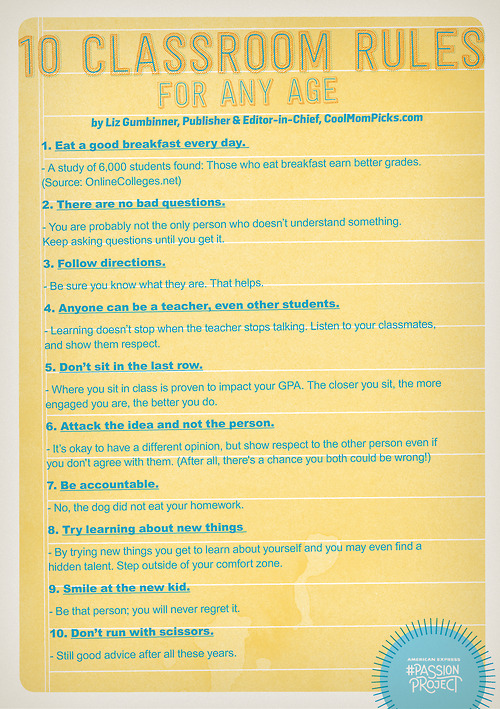 Nothing made me happier than hearing Sage explain that last year in Kindergarten, she was one girl's "first friend." The girl is shy, smart, adorable, the youngest of siblings who go up to college age, and her family is about the coolest ever. I'm so glad we're getting to know them better.
Plus, being someone's first friend in class; how great a feeling is that?
I think I know where she gets it. When I was a kid, I was definitely not a pollyanna–I didn't like the booger-eater or the one weird tall kid who would only run backwards in gym class. But I generally had a soft spot for the new kids.
I  remember the chunky blonde with the ruddy cheeks in first grade who read slower than the other kids and was so happy just to be invited over for a playdate. I remember  the new girl in fourth grade who had transferred from a neighboring school in the district, and made the unforgivable social mistake of wearing a skirt instead of jeans–and not just any skirt, a PREPPY PLAID SKIRT. And loafers no less! A prepster outfit in a world of 70's tomboys–oof. Nearly unrecoverable violation. And yet? We're still friends today. I also remember asking the gorgeous new strawberry blonde with the bangs that covered her eyes and her acne scars to hang out with me and my best friend after high school; although that one didn't work out so well.
ahemboyfriendstealercough
On the other side of the coin, I watched Thalia jump up and down with an absurd amount of glee when she discovered that the class bully had a different teacher this year. I hadn't realized how difficult this girl had made things for her until last night when she described some of the cruel things this girl had said and done. And  while I can't help but be proud that Thalia handled it on her own, boy do I have fantasies about the things I could say to that other girl's parents.
I'm channeling Melissa McCarthy in This is 40.
We spend a lot of time worrying about bullies. Do we spend as much time making sure our kids don't become them? I really don't know.
I'm sending my kids off to school again next week. (Yes, we start late in New York.) It's so easy to tell them to try hard, brush their hair, listen to the teacher, follow the rules, don't wipe your nose on your sleeve. Sometimes we just forget to say something as simple as, "be nice to the other kids."
I'm glad that writing out this list helped me remember it. It matters. To someone.