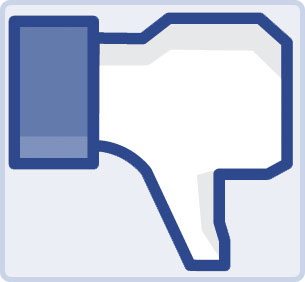 Okay, I am not officially the last person to know about the "other" inbox on Facebook, so there's that. Though I may officially be the only person who forgets about  it so frequently, that every time I notice it again I'm like hey…what's that?
Other Inbox Amnesia. All things being equal, not the worst affliction ever as you know, if you have ever checked your own  other inbox.
The whole alternate inbox is a bizarre concept; the messages are rarely anyone you actually want to hear from. Actually, they're rarely anyone you even know at all.
Not that it's so heinous getting random propositions from men who can't construct a proper sentence (Hello , i love your picture here, you are beautiful, i like to be your friend, Please send me a message girl). Or who live no less than 14,000 miles away and write in languages so unfamiliar they might not even be real languages at all. They could be writing gibberish in Greek type just to mess with me for all I know. Throw in some accent marks; work the authenticity.
Megosztás általam:Üdv Ibolya to you too, Dude.
It's flattering to a certain degree, though I can't fool myself into thinking that these messages are mine alone. Surely the requests for companionship and return emails have been cut and pasted so many times into so many Private Message boxes, the Control-X is worn off their keypads.
Now first of all, when did Facebook private messaging become the new You-Can't-Opt-Out-Even-If-You-Wanted-To Online Dating Site? It's like your friends signing you up on Match.com as a joke to attract weirdos. Liz enjoys pole dancing, biker bars, receiving photos of cute kittens by email, and cooking and cleaning for her man. 
Meanwhile, you can't even get coffee with "Aleksander"  if you wanted to because, from the looks of his photos, he lives outside some Eastern European city where he is carried home unconscious from the local pub most nights.
Yesterday though I think I found the inbox proposition that fascinated me the most. It was from a guy who I could only describe as the 68 year-old lovechild of Bob Balaban and Tony Soprano.
Hold that image.
And I really like Bob Balaban, so let's say I'm being generous here.
He started his note:  "Hello, Pretty."
Which…well, that's like straight out of a Grimm Fairy Tale, right?
I click over to his page just see what his deal is, and his header photo is the ultimate in HARD-WORKING LADY BAIT: Portrait of a small girl about to be eaten by a Pit Bull.
Truly, if there's anything that says to a single mother, "date me! I'll be a great influence for your girls!" it's an old dude with an unrestrained deadly animal in his car and a taste for preschoolers.
(And pleeeease don't start telling me how sweet Pit Bulls are and how they're just misunderstood. Feel free to lock your own little girls in the car with one, but that won't be happening around here any time soon. I freely admit to buying into the "evil Pit Bull" alarmist media narrative of the mid-90's and there's nothing you can do about it.)
Upon further investigation, this gentleman has 5 "friends"–all older and female. One is from Cyprus, one from Shropshire, and one from someplace in Alabama called Opelika. I'm sure they are all perfectly nice, but one of them does play a whole lot of Pet Rescue Saga.
The best part though has to be his page of likes. Now granted, mine would indicate that all I do all day long is listen to kindie rock bands and read 8000 blogs and like any pages or brands my friends ask me to like–which is partially true. However I'm not trying to paint a date-able portrait of myself  to potential fellas either. If I were, I might do a little better than this:
The collection is so enigmatic, I'm trying to construct a story about him from them. The best I can think of is "I'm not actually a person. I'm a collection of weird mismatched photos I stole off the internet, and some random pages I clicked on that seemed interesting. I don't know what that fist one means because my native language is Latvian, but it does look like nice graphic design. Also, dogs and children together are cute and will attract some ladies."
Or not.
Either way, I don't think it's going to work out between us. I do wish him luck with the lady from Alabama.