It's my first Christmas as a single mom and while I've tried not to turn this into the single mom blog for various reasons, I have felt overwhelmed by so many conflicting emotions for the past week.
Gah, Christmas. Why do you do this to us?
In my family, as a product of divorced parents myself, holidays were always when we made them–Thanksgiving with my dad on a Wednesday night or a Sunday afternoon. Christmukkah with my mom on December 27. Even birthdays can extend a full week or longer. For me, it was always an indulgence, if for my parents it presented challenges that I only now am beginning to fully grasp.
Now, my children are about to embark on this same experience for the rest of their lives, and bless them, they are as flexible and resilient as children come. The idea of two Christmases, two Thanksgiving, two (or more) birthdays is a joy to my girls and for that I am beyond grateful.  But when I stopped worrying about my girls and slowed down enough to think about my own Christmas this year, the overwhelming force of the change punched me hard.
In my 8.5 years as a mother, I have yet to miss a Thanksgiving, a birthday, a Mother's Day, a Christmas eve or Christmas morning with my children. This Christmas is the first.
And so, we had our own Christmas eve celebration on Thursday night before they left for their father's for several days.
We decorated the tree, letting the girls hang ornaments wherever they wanted–a painful if gracious exercise for parents with any aesthetic concerns whatsoever. They placed all the Nutcracker ornaments together on a single, teetery branch ("they go together, Mom!") and clustered all the others at their own eye level leaving me to fill in every branch over 4-feet tall. We completed it with the kitschy, lopsided silver star I've always loved that looks extra lopsided this year thanks to a top branch at a 45-degree angle. They loved it so much that Thalia asked to take a picture of it.
I even allowed them to string the extra set of blinky Christmas lights by the window on a slow on/off fade setting, with apologies to my neighbors who are probably reporting me to 311 for a Non-Emergency Tacky Violation as we speak.
The girls recorded video letters to Santa (21st century, baby) and then Sage wrote a letter to Santa too, complete with prices should he be buying–and not making–the entirety of the American Girl Doll collection. Hopefully she will not be disappointed that most of her wishlist will remain one.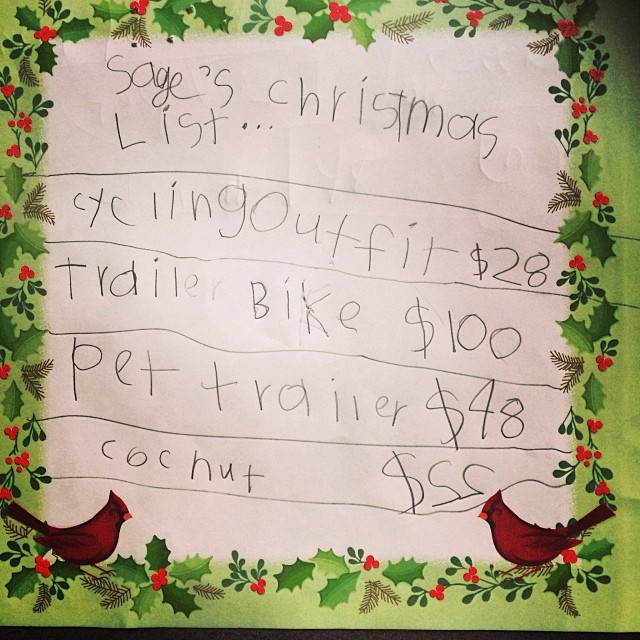 We drank hot chocolate and ate a homemade dinner I prepared from among the 5 whole dishes that they find acceptable these days, and we toasted to love and family with sparkling lemonade in grownup glass tumblers.
Then we danced.
By the clean white lights of the tree, they spun and they leaped and they twirled to my holiday playlist, using their fantasy minds to pretend they were Hermione and Ginny in a couples dance-off with an imaginary Harry Potter and imaginary Ron Weasley. (As Professor McGonnagal I got to be the judge and as always, by some remarkable coincidence, it was a tie.) They fell in love with Straight No Chaser's 12 Days of Christmas, they rocked out to Springsteen's Santa Claus is Coming to Town, and they went nuts for Christmas in Hollis which gave me endless joy.
We also had to listen to Frosty the Snowman multiple times from multiple singers, but as 6 and 8-year-olds, I forgive them. Wham's Last Christmas, however? "SO boring! Can you skip to the next one, Mom?" Eh, she's kind of right.
Then, as the girls slowed it down and sashed in circles to the sappiest of all sappy songs, Faith Hill's Where Are You Christmas, which Sage can listen to 97 consecutive times, I lost it.
Not just quiet tears welling up that I could whisk away unseen with a pinky finger, but the quintessential, cliché Ugly Cry.
I thought about the Instagram photos of Christmas morning that I won't have to share myself, even while tapping hearts on dozens of others. I thought about missing our annual Christmas Eve trek to the 5th Avenue store windows and the joyous crush of tourists at the Rockefeller Center tree, including Creepy Elmo, Creepy Spongebob and Creepy Dora who will take a photo with your kid for a few bucks.  I thought about my dad's annual 'Twas the Night Before Christmas conference call reading for all the grandchildren, and how my girls wouldn't be in my bed for it this year. I thought about the cookies for Santa we wouldn't leave in the hall by the front door, and the note they wouldn't write letting him know there was an extra for his reindeer too.
And then I thought about how none of this really mattered to them at all; how happy my girls were to try something new this year and have this makeshift Christmas eve dinner, just the three of us, nearly a week early. It only made me cry harder.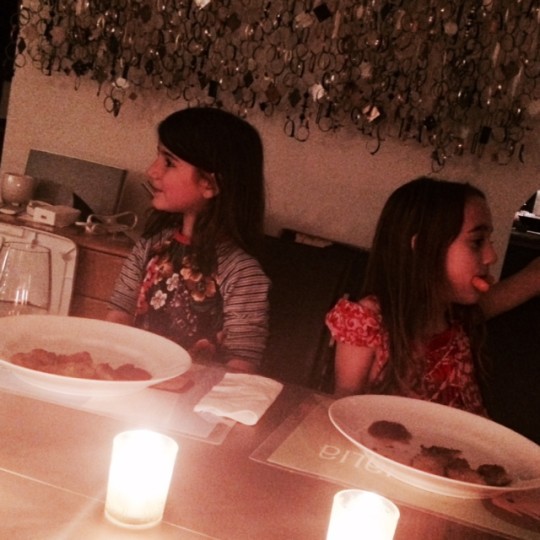 I know I am hardly alone, nor am I the first person to feel this longing on a holiday; this is the neverending lament of divorced parents everywhere. Of military parents stationed overseas. Of working parents with jobs that keep them away. Of relatives recovering in hospitals, families without the means to travel to see relatives, college students unable to fork over exorbitant holiday airfares to bring them home.
They are all in my hearts right now. I feel them in a way I couldn't have understood so precisely before.
But I hope that they also know that Christmas is when and how we make it. It can be a random Thursday night. It can be New Year's morning. It can be a Facetime call for a Clement C. Moore reading, or a letter for Santa thanking us for cookies that the girls get to come home to late Christmas afternoon, ready to open gifts for Christmas #2.
My own desires aside, I know I am remarkably fortunate that my girls have so many people who love them and want to be with them this time of year. I try to remember that that comes first, even if waking up alone Christmas morning is something I'm avoiding thinking about.
"I'm just…so…happy," I assured them, when they rushed to me to see why I was crying.
"Well, you must be really happy," Thalia said, skipping back to the dance floor. And I was.