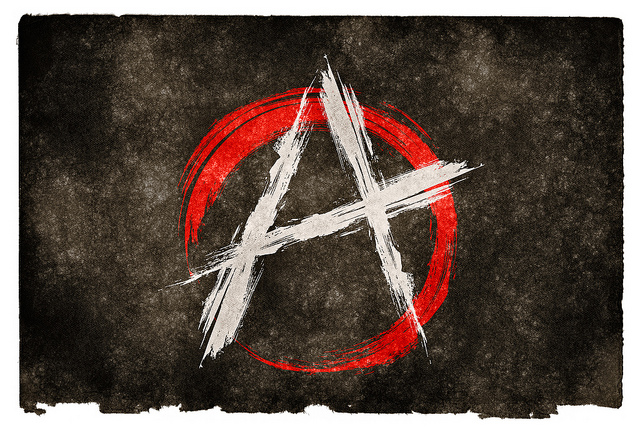 I have no system. I am systemless. I am a mom without a system. And I'm only just learning this.
The other day, someone at school asked what system I use to punish my children and I was like uh…punishments…hm. System. Well.  Sometimes we do time outs? It works, but they don't normally need it. And a couple of times I took away Sage's doll for the night. And uh… does "turn off the iPad, it's homework time" count as a system?
The woman looked at me like I was an anarchist. An anarchist raising children in a craven, lawless, God-forsaken household-gone-wild. Next thing you know, they'll be running the house. We'll be painting the walls rainbow colors, adopting rabbits, and holding playdates in which we pierce their friends' noses with a needle and a block of ice.
It's a slippery slope.
I totally see that when kids are having behavioral problems, or they won't stay in bed, or they are potty training, you need a system for rewards and a system for punishments. My own kids' biggest problem right now is that they don't eat anything.
I did in fact make a rudimentary New Foods Chart once, and we checked off a new food every time my kids tried one. Five new foods tries and they got a little toy.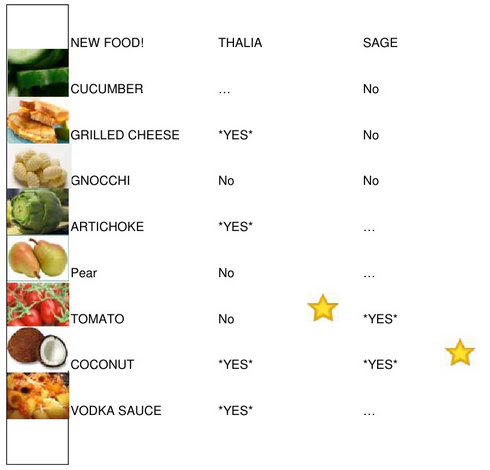 The good part: Thalia tried vodka sauce at one point. Today it is scary and red, but it does give me hope for the future.
The tough part was twofold. First, the idea of me keeping up with any spreadsheet for more than a month or two is laughable; and second, now that the kids are older, Sage would rather have no toys ever than taste something as scary as oh…say, a piece of cheese.
Of course she likes pizza and she likes ricotta all by itself, she likes Annie's mac n cheese, and she likes tortellini and she likes ravioli–but she does not like cheese, thanks for asking. Which currently takes the number of foods she will eat for dinner down to about four.
If you count ravioli and tortellini as two different foods. 
Which I do.
So I look to my friends who are raising terrific kids to see what they do for punishment and reward systems. Tina tells me about their marble jars, one with each person's name, and enough marbles earned for doing good things can be traded in for a toy. I know that Kristen Chase doles out poker chips for achievements like sleeping through the night in bed, and they can be redeemed for gaming time. Other people pay for chores, which we don't do because my feeling has been that my kids should clear their dishes because they're part of this household, not because they get paid. Plus, if they don't clear their dishes we will have roaches and that right there is punishment enough.
I also see around the internets that dessert is a big reward/punishment system for families. But I never wanted to do that in any formal way, because I always felt that sweets should just be something you have sometimes. And I still remember Roxanna telling me that she makes sure to call them sweets and not treats, which I love. 
In a way, I really like our total dessert randomness. It keeps the kids on their toes. In fact, sometimes they eat an awesomely balanced dinner in which not every food is beige, plus they have behaved well all day, and I still say, "sorry, no dessert. We don't need to eat it every day." Just because I can. 
Then, sometimes, I feel like, eh, Sage ate a whole piece of broccoli even if she held her nose and cried while she ate it so…ICE CREAM FOR ALL!
But it's not a reward, I remind the kids. It's just dessert.
Clearly I'm a rewards/punishment parenting system anarchist. No marbles, no poker chips, no consistency. Which seems to have worked so far mainly because I have lucked into fairly well-behaved kids to begin with. (Aside from the occasional epic dramatic freak-outs over whose turn it is to pick the next Frozen song to perform in the living room. As if this is their one and only time to sing Do You Want to Build a Snowman for the rest of their lives.)
So maybe we don't need something so regimented. Yet. But something tells me, based on the delightful new eyerolls I'm starting to see more frequently from my 8-going-on-15-year-old, and the recent discovery that playing Rayman on the hand-me-down iPad 2 is more interesting than getting in bed on time, that it might be time for me to get with the program.
A system. It's sounds so…grown-up. I hope I'm ready.
[top photo via]