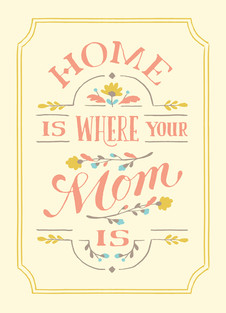 I've been thinking for a while about this interesting new meme that is increasingly circulating any time there's an ad, a video, an article acknowledging the hard work of mothers: The idea that thanking mothers is necessarily putting dads down.
(Moms rule, dads drool?)
This week, on the Cool Mom Picks Facebook page, we shared a wonderfully clever Cardstore.com video salute to "the world's toughest job" which, well, you can guess who they're referring to what with Mother's Day coming up and all.  We linked to the video knowing darn well that someone would at some point call out the video for not acknowledging dads, who also work very hard at being dads. And that's just what happened.
So, yes. Those people are right. Great dads are great dads and deserve to be told as much. When you've felt marginalized in any way for a long time, it's understandable that you become sensitive to any perceived slight and seek to correct it. There is also a marked rise of single fatherhood in this country, and marketers need to acknowledge its existence. Not just for the dads, but for their kids.
I think about this every time I see some damn standardized test prep homework question describing how your mother gives you $1 and asks you to go to the store… and have to wonder what happens when the little boy from Sage's kindergarten who is being raised only by his terrific father comes across that in a few years. Will he see it for what it's worth, as a question with a fill-in-the-blank generic character that could easily say "Grandma" or "Tom" or  "the weird guy at the aquarium?" Or will it sting for him to read it knowing that he cannot put himself in those shoes?
Feeling left out is a valid emotion. We've all been there. But the question for me is, are we confusing not being included with exclusion?
Also, is it so bad to just step back and allow moms, who often feel undervalued and underappreciated and exhausted as a whole, to get a little pat on the back from the world? And beyond that, can't they just get that pat on the back without someone having to add, "oh and dads? You're pretty swell too."
It reminds me very much of how my kids try and play this same game with me.
For example. I'll tell Sage that I'm so impressed with the book on penguins that she wrote in school. Thalia will overhear it, jump in and ask, "what about me? How was my homework? Did I do a good job too?" I have learned not to say "you're great too, honey!" all the time. But instead, to explain that I love them both and they both do things well, but that I am entitled to compliment one without complimenting the other at every instance.
It doesn't mean I love any one less or more than the other; just that there are times to give praise, times to receive it, and times to sit back and listen and just feel happy for your sister.
Equity over equality.
(They don't understand that at all right now, but eh. One day.)
I have been a vocal advocate of positive portrayals of fathers in advertising. I recognize that they too are undervalued and misrepresented in their own way, and I will continue to support more progress towards inclusiveness. But inclusiveness isn't the same as all-inclusiveness. And that's where I think we're starting to go off the rails a bit.
With Mother's Day coming up. I want to be able to say, "yo, moms! Way to go. Keep it up!" without the fear of criticism that I'm somehow leaving fatherhood out.
Otherwise, where does it end? Are we just going start saying Happy Human's Day! once a year and leave it at that?
It's my hope that sometimes we can thank moms for the jobs they do. Other times, we can thank dads for the jobs they do. We can say "Grandmas rock" without Grandpas world over taking up with pitchforks and torches and storming the headquarters of American Greetings. We can say, "Dad you're the best" and not presume that means that Mom is second best.
And when Father's Day rolls around in June, I really hope we say just that. Whether or not we're selling soap or cards or razors, or just saying it because, at that moment, that's exactly how we feel.