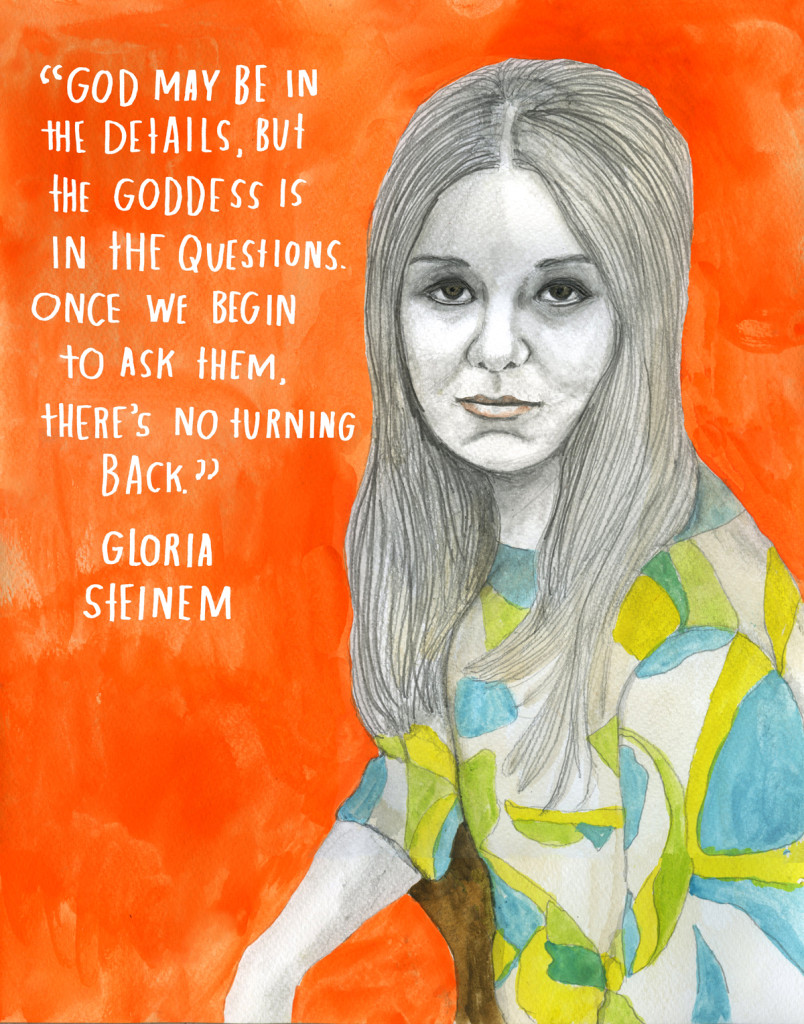 This week, we honor Gloria Steinem on her 80th birthday. And it's not lost on me that at this very same time, I'm following conversations about: 
A new tech site that reduces women to centerfolds. (Possibly because they don't actually understand how to use technology themselves.)
Apps for girls that glamourize plastic surgery.
A common core history curriculum that ignores women.
Mothers who don't want their sons playing with dolls.
The sexualization of female cartoon characters.
Elected officials who think contraception is for irresponsible whores.
Conversations around the wrong kinds of women in social media.
Continued human trafficking and sexual violence against women. 
Blahblahblah the list goes on. I'm sure you have your own that you could name.
But you know what?
This is progress.
Because we're talking about them in the first place. Openly. Passionately. With intent to make changes, if only starting with our own families and how we raise our children.
That's what I learned from Gloria Steinem.
Interviewing Gloria Steinem (however awkwardly) in 2006 was one of the pivotal moments in all my experiences as a blogger. And then, emailing her a second question from my readers about stay-at-home moms and feminism. And, finally meeting her live and in person at a press event just days before I announced my pregnancy with Sage (though my boobs betrayed me, for sure).
I will never forget her kindness and graciousness to those of us there as bloggers, at a mainstream media event, at a time when people still asked "what's a blogger?" How she stayed longer to take more pictures. How Catherine Connors and I clung together, wondering just how we ended up in a room with people like Jane Fonda and Dee Snyder. (Me without any wine to help get me through it, stupid first trimester.) And I will always be grateful to the wonderful David Wescott who put it all together, because he had the vision that bloggers could tell stories in a way that traditional journalists couldn't, long long before anyone else in PR that I knew. He made sure that 10 women bloggers were there that day.
But most of all, I will never forget her words to me in that first interview, because they reset my life on a path that made it possible for me to get my head out of the sand (or reality TV) and go to Ethiopia with ONE. Talk politics again. Speak my mind about vaccinations.
I asked how to dust myself off and keep going when it seems the world just isn't making the progress you want it to; her answer is still relevant today (for better or worse) as it was 8 years ago.
Reprinted from my post:
Her words (and here I paraphrase) were that we should look at the facts, look at the public opinion polls and then we will know know that we are not alone, not fighting against all odds. That the vast majority of the country supports us on the issues we care about.
Then she summed up by saying that to keep our spirits up, we should simply look at where our spirits are. Not where they aren't.
And so, we look. We band together. We write, we talk. And we keep going.
[image at top by Lisa Congdon for The Reconstructionists. Awesome site. Please check it out.]