Yesterday, I was teary reading the Cool Mom Picks post we had up for Father's Day, rounding up 31 quotes about dads from our readers. There were such diverse, heartfelt loving tributes to their own dads, their own stepfathers, their sons who became fathers, their husbands who became stepfathers or foster parents, and of course, the fathers of a lot of newborns. It was really touching.
And really enlightening.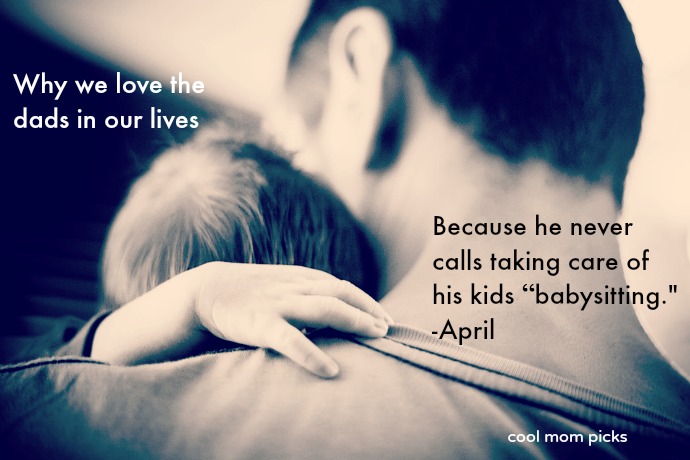 The more I thought about it, the more I went back to the original posts that contained the comments in the first place, the more I could see that the things we (you know, "we") admire and appreciate and love our partners for, are a lot of the things that I think are taken for granted in us.
Not to pit moms versus dads or to take away from any of the wonderful things about the great fathers out there. And there are many. (Do not even ask how my dad can still give shoulder rides into his 70's when I tremble at the thought myself.)
But let's switch genders for a moment. How many dads would write that they love the mothers of their children because:
She truly is a co-parent and 50-50 partner

She works outside the home and still does 50% of the work at home.

I went back to work full time, but she still managed to get our daughter to ballet class with other little ones.

My wife does so much around the house to help. 

She puts them to bed almost every night.

She is a fantastic role model for our children. She even does dishes and the floors!
Kind of funny right? Not just me?
It's not to take away from any of these awesome relationships. Whatever makes you happy and makes your relationship work, I'm all for it.
But it's so clear that what mothers as a whole value is partnership, help, and support. And yet, it seems they don't actually expect it, so they're extra thrilled when they get it at all.
The research bears this out: Women are still doing more around the house as a whole, even as they work nearly as much out of the home. Even women who are the primary breadwinners do more around the house. And not surprisingly, women struggle more with work-life balance than their male partners because even if they both work outside the home, women feel more cultural (or familial or personal) pressure to still be responsible for more when it comes to children and the household.
I feel positive. I feel like there is movement. That there are dads actively out there campaigning to be taken seriously as caregivers and moms who support them.
Maybe though, there are a few more dads out there who can remember to thank their wives for making the bed or doing the dishes or picking the kids up from school or working out of home to support the family and still making time to read to the kids at night. Don't just tell them on Mother's Day, either, or write it in a birthday card once a year.
I know, I'm nudging a little. But something tells me it will go a very long way.