Thalia came home a little dejected Thursday night. "I probably didn't make it into the Robotics Club, Mom."
The Robotics Club, you guys!
"Why not?"
"Well, we all had to get in small groups at try-outs and make a tower stand. And ours was the only group that couldn't get it to stand on its own."
"But…did you try other ways to solve the problem?"
"Yes."
"Did you work well with the group? You kept trying and didn't get upset or frustrated?"
"Of course."
Then I asked her the question that may have mattered just as much:
"How many other girls were at your try-out session?"
It was just Thalia and one other girl. I hate to say it, but I figured that boded well for her odds.
The Robotics Club, you guys!
It doesn't even matter to me if she gets in or not; I was just so thrilled she even made the attempt.
I admit it's easy for me to encourage my daughters' love of dance and gymnastics and art and soccer and reading and writing conceptual poems. I've been there. Robotics, however? A bit out of my comfort zone.
As much as I run a website that encourages girls to get involved with STEM interests, I'm not a native. But our kids are. They're growing up asking me to show them what the code means on my website or how to make a gorilla out of punctuation marks. Thalia's favorite subject is science. I  know how much she loves LEGO, and  how she tried desperately to trade with her sister when Sage scored the female scientist Minifig. She adores Little Bits and Minecraft.
(And zomg the Minecraft obsession. Fortunately I just discovered this little trick to help with that.)
If I think about it, Thalia has Robotics Club Candidate written all over her. She's still the artsy kid. Only she'll grow up with LEGO elements and NXT code in her tool kit too, right alongside the brushes and smudgy pastels, and songsheets from musicals.
Because yesterday she got her acceptance letter.
She'll be devoting six hours each week after school in the fall making circuits, programming robots, participating in a First LEGO League competition, and  figuring out how to get that tower to stand.
Her hug, as she told me the news, was one of the most magical things I ever felt, like her smile just filled her body and went right into mine.
Have you ever physically felt your child smile?
It's funny when we don't know our kids as well as we think we do. Robotics Club.
She'll be great at it. Or not. It doesn't matter. I love that she's pushing herself. I love that she's pushing me. I love that she'll have something all her own that none of us have ever done before. I love that she doesn't care that no other girls in her class are doing it. I love that she builds her own life-size Enderman in her spare time out of cardboard boxes.
She loves him and calls him Endy and says they're going to get married.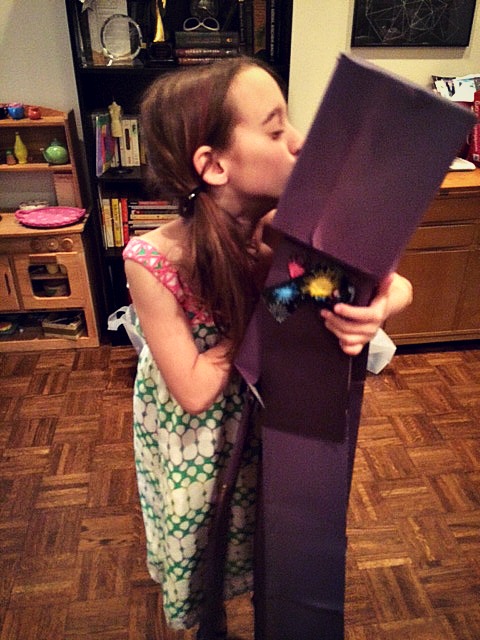 Remember when she was just a baby? It's getting harder.