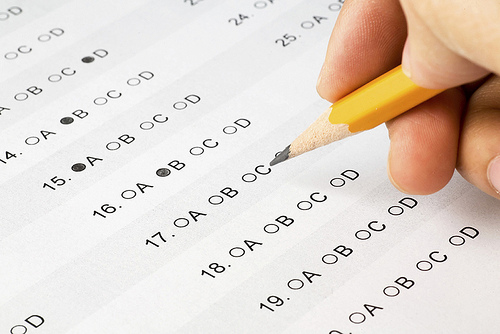 Thalia came home one night from school last week, delighted to inform me about a school rule mandating no homework on weekends.
No homework on weekends. 
My first instinct was to cheer. Loudly. Obnoxiously. Last year, the copious stacks of third-grade homework pretty much sucked the joy right out of my otherwise school-loving daughter (and her mother). And I'm not talking about that wackadoodle new new math; but worksheets downloaded from the Internet with spelling errors in the questions, books that bored the crap out of her, and notes gently explaining that her writing journal was not a place for drawing her own comics every week.
Someone please alert Neil Gaiman that he's not a real writer.
But honestly, I wasn't so sure about her assertion. Is this really a school rule? With curriculum night the next day, I could ask for myself.
Now as you may or may not know, unlike a lot of the country these days, the kids in NYC don't go back to school until oh, the first sign of frost. So we're still ramping up around here, getting used to the new half-hour earlier start time, trying to remember which day is gym (no, you can't wear your flip-flops, Sage, even if you promise they won't fall off), and getting back in the habit of oh right–I have to pack lunch every day so my kids don't coerce yogurt squeezers from their friends. It also means that the annual beginning-of-year curriculum night was just last week. And despite complaints from Alice about lack of childcare or delicious kale chip snacks at her own school's curriculum night, I always look forward to attending ours.
(I'm just kidding; Alice would have happily eaten any snacks at all, but it being Park Slope, I think there's some sort of kale chip law there.)
(Brooklyn humor. Don't worry about it.)
So I squished my not-seven-year-old butt into those little wooden chairs for the privilege of spending an hour with each of my kids' teachers last week, trying to read between the lines to determine if their education philosophies mirror my own.
Joy of joys, my friends, this is going to be an awesome year for both of them.
I listened to the teachers wax authentically about their passion for teaching and instilling a love of learning in children. Sage's teacher explained that she was happy to return to second grade from third, in part to get away from the hell that has become standardized testing and instead spend more time finding the best in every child and nurturing it. I think the two words murmured most frequently by the other moms as we left the room were girl crush.
Thalia's teachers were equally effusive about their love of teaching, and didn't even bring up testing once–which I take as a positive sign that things will be better than last year's soul-crushing skill + drill sessions from a more test-centric teacher; and way too much busy work for my liking, assigned even over holiday and Christmas breaks.
As a conscientious objector for numerous reasons, we in fact opted out of the New York State standardized testing last year. And I won't get into too much detail about that right now because oh lord, I can rant about this for an hour. It just serves to let you know where I'm coming from in terms of what I want for my kids in terms of education: I want them to love it. I want them to work hard and find joy in their accomplishments. I want them to make lots of mistakes and learn from them. (The spelling errors are killing me right now.)  I want them to ask if they could read a little longer before lights out.  I want them to try new things that they're not always good at, whether it's chess or science lab or playing the recorder, until they find their real passions.
Not high on my list: Demonstrating proficiency at filling out little oval bubbles with a number 2 pencil.
As it turns out, Thalia was right. No homework on weekends except for some extra-credit reading and maybe a few special night-before-the-big-project-is-due stuff.  Sounds totally reasonable to me.
How wonderful to think that my young children will actually spend their weekends this year reading for pleasure, playing with friends, helping their grandparents in the garden, performing plays, making up more song lyrics for their "parody club" or just–gasp– watching TV or zombie-ing out on Minecraft. In other words, getting a break. The same way adults insist on getting one from their own employers.
Suddenly my bubble was burst like a fat wad of chewing gum all over my face, when other parents started chiming in.
"Well why don't they get homework?"

"Who's idea was that? The PTA?"

"Can we give them our own homework on weekends?"

"Can you give us extra homework to give us to give them ourselves in case we want them to do more?"
I have to admit, in my own naivité, the reactions surprised me.
Truly I had no idea that other parents in the class would want more homework for their kids. And I should have known, especially considering my mother wrote about that very thing just a month ago.  Parents are all over the map on this right now, as she described.
" My husband and I get home at 8pm every night. We don't want to have to deal with homework . Please don't give it."

" I had to do 3 hours of homework every night in elementary school. Why aren't our kids getting the rigorous work I had to do?"
Because I can't shut my mouth, especially when I think there might be other parents in the room afraid to speak up and offer a contrary opinion, I blurted out to the class, "Well, I for one am happy to let my children just be children on weekends."
It got quiet. There might have been some nodding in agreement behind me. Hard to say.
Mostly, I imagined the other parents thinking, "have fun raising your kids to grow to flip veggie burgers for a living, you damn dirty hippie."
The more I thought about it, I realized, none of those parents in that room have anything to worry about. They care about their kids. They want them to succeed. They make education a priority and they want them to be the best they can be (even in spelling, ahem) and work to their potential. That's why those parents attend curriculum night in the first place, and even bother to ask questions or challenge the conventions.
I'm guessing that whether the school sends home mandatory or optional work is irrelevant; I guarantee those kids are all growing up with shelves of books, parents who speak to them using three-syllable words, and an eye towards the future. It's the parents who can never make curriculum night whose kids may need some extra help on weekends. And I'm not sure that that's something that homework will solve either.
Top photo: albertogp123 via compfight cc