Sometimes I get a pitch that makes me want to cry. And by cry, I mean run to my blog to share it all with you so we can cry together.
Tears of laughter. Tears of pain. Tears of what the hell is wrong with people.

I'm sure that like me, you are delighted to learn that you as parents now have the perfect gift to give to your teen or pre-teen girl. Because you know, we just don't understand our kids–their wants, their needs, their crazy kid style. Why, some days, my daughter pairs rainbow shoes with colorful socks. It's madness, I tell you.
However, thanks to an informative pitch in my inbox today, I've been schooled once again. Starting around 9 years old, what girls really want is not some boring American Girl Doll or a trip to Disney World, or even the LEGO Harry Potter set, the one with the Quiddich set that you have to buy from some LEGO scalper on Amazon for $75.
No, it seems that her true desire is for a belly button piercing.
Fear not! For one brilliant marketer, knowing that moms are not necessarily into the whole idea of piercing their third or fourth or fifth-grader's belly buttons, has come up with the perfect, sensible alternative: The world's sexiest jewelry.
Seriously. World's sexiest. For you to buy your pre-teen and teen.
They will love it. Or so I've been told.
And now, I'm going to give you the rare privilege to behold the sexy. You might want to uh…lock the bathroom door and get out some tissues before you go any further here. I mean, these are sssssssteaming hot.
See what I mean? On fire!
I guess unbeknownst to old people like me, the way things work with kids these days is that "sexy" means dangling a cheap looking, Chinese-made (just a guess) gun charm from the button of your Daisy Dukes, like a flashing neon sign drawing attention to your lady bits: Look guys! Down here! I have a vagina! Hey! Yeah…see the gun? Yep, that's it! That's the one!
Christina says they are like zipper pull tabs for your shorts. So there's another added level of sexy right there: Easy access.
And if, say, for some cockamaime reason guns and handcuffs aren't your thing, here's another sexiest thing: gold-digging.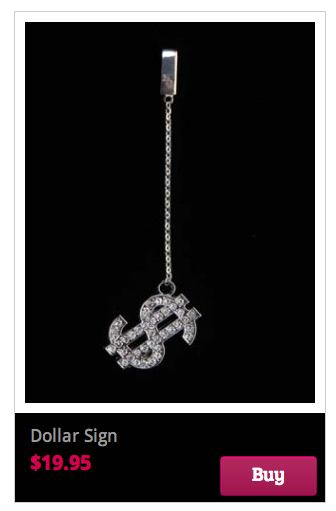 Let's be honest, parents. All this talk about bullying, redshirting, common core testing, Title 9 sports, promotion of girls in math and science–eh. Passé. What we really should be focused on are discussions on how to make our daughters more provocative and alluring. Early, yo. Or they won't stand a chance against those other girls whose parents got a head start on us. Damn them.
Sadly, mere padded bikini tops just aren't enough any more.
 Pull my finger. I mean…zipper.