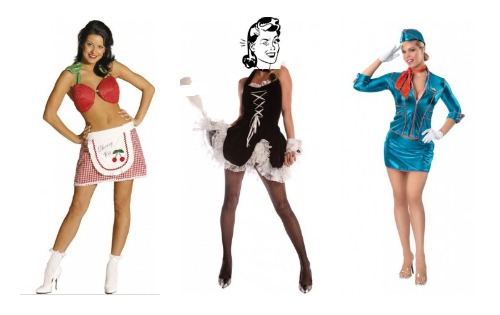 Dear Men of America,
I regret to inform you that this year I will not be participating in Hoochieween, Slut-o-ween, or whatever version of Halloween you imagine that features 50% of our country with their ass cheeks hanging out of their spandex skirts and their exposed boobs hoisted up to the heavens.
I understand that this could potentially jeopardize my national citizenship, from what I can tell. Possibly my right to vote. Definitely my chances of ever scoring a Playboy Mansion party invitation.
And I do realize that your disappointment may come as a shock  considering the displays of costume options for women in pretty much any store anywhere will easily lead even the most reasonable man to believe that every girl and woman in this country over the age of oh, 13, will leave her home on Thursday dressed like a sexy nurse, a sexy "teen maid to tease" (nothing like a good statutory rape themed costume, eh?), a sexy Teenage Mutant Ninja Turtle, a sexy witch, a sexy M-n-M, a sexy zombie schoolgirl, a sexy prisoner who has to turn in her belt on admission, evidently, but gets to keep her fishnets.
I will not be dressed in a sexy Halloween costume simply called Sexy Halloween Costume which may be the most pathetic thing I've ever seen.
And above all, this year, once again, I will be rejecting my all-time personal favorite sexy Halloween costume: a sexy female Freddy Krueger.
(When I think sexy, I think psychopathic serial killer in an ugly striped t-shirt. Get me some of that!)
In the same vein, I apologize that I will not be sporting a slutty wig or slutty stockings or even a slutty wallet despite my fascination that such a thing even exists.
I will not be dressing up like a gardening tool, despite the number of Pimps and Hoes parties I see promoted.
I will not be reporting back on this year's much talked-about Hackers and Hookers party in part because I don't have a good hacker costume, and in part because I don't want to go anywhere that socially inept men outnumber women of any kind by 40:1.
I know it's disappointing to imagine that you may run into the rare woman on Halloween night who's dressed as a Supreme Court Justice, a professional ball player, a Katnis Everdeen, or a police officer of the non-sexy variety, but you should prepare for such eventualities. In fact, if my daughters have it their way, I will be dressed as the Hogwarts School for Witchcraft and Wizardry. As in, the actual building. Their thinking is that it will go with their own costumes, Hermione Granger and Ginny Weasley.
I won't be a sexy Hogwarts either because that's just weird. Buildings can't wear fishnets.
Then again, neither can prisoners. So what do I know.
Enjoy your Halloween, gentlemen. Don't eat too many Butterfingers. And keep your hands off the sexy French burlesque dancers.
At least in my town, most of them are not actual girls.