I don't tend to share a lot of my kids' school work, besides maybe Thalia's awesome letter to her teacher on why you should reveal the baby's name when you're pregnant which was too fun to keep to myself. (Follow up: The baby is here, he's named Jack, and I bet more than a few girls are disappointed that she didn't choose Christophe.) But this week, Thalia had a free writing assignment for homework, and she decided to write a poem, starting by calling it This is Not a Poem.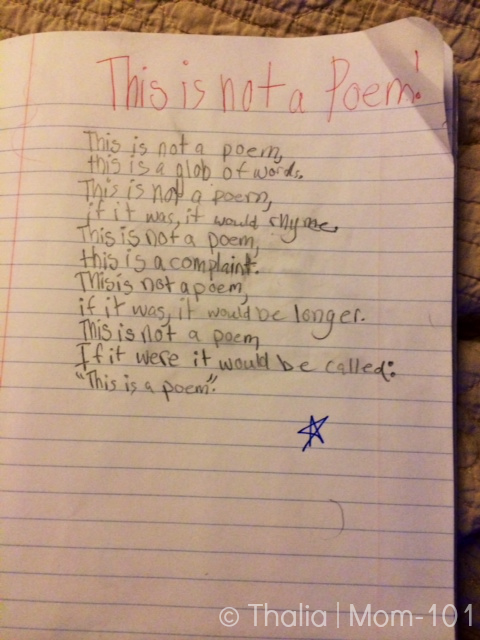 This is not a poem, 
this is a glob of words.
This is not a poem,
if it was it would rhyme.
This is not a poem,
this is a complaint.
This is not a poem,
if it was it would be longer.
This is not a poem
If it were it would be called "This is a poem".
Try evaluating that on some common core standardized test, Pearson. She'd probably have failed because it didn't rhyme and the last period was outside the quotation marks.
I must say there's something both scary and wonderful as a writer, to see something your eight-year-old wrote that you wish you did. .