We hung a left onto the long gravel road and as the figures at the end became clearer, I could hardly contain my excitement. When I dropped the girls off at sleepaway camp a week earlier, I knew I would miss them. I didn't realize just how strange and difficult it would be not to talk to them that entire time. Not to have even one quick phone call filling me in on the day's events, telling me things were great, that the other girls were nice, that swimming was fun, that they have survived solely on pb+j for a whole week.
(Just a guess.)
As it  turns out, Thalia is a natural letter writer, and sent long, effusive notes to me, her sitter, her grandparents, her friends, about how nice the campers were, about how they all love Minecraft too (reassurance after I had warned to try try and please, please not talk about it all week), about her color war team (though of course it has a new 21-century friendly, war-free moniker), about some game in which she "found Elsa," whatever that means–but it made her very happy.
It was especially emotional to read that the girl who could hardly put her face in the water last summer was now diving off a dock into a 9′ deep lake.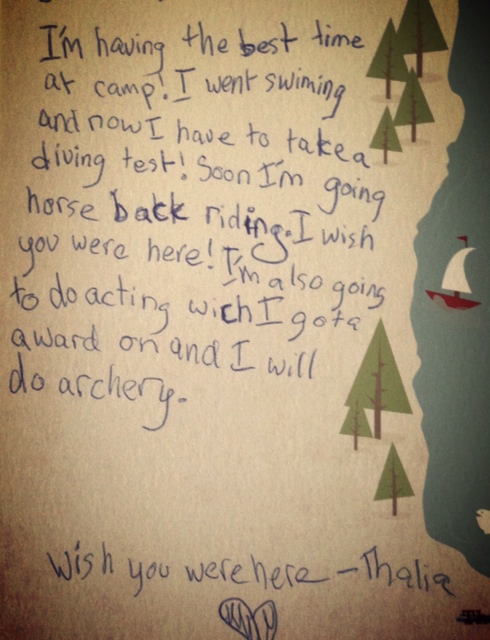 So yeah, I made each recipient read me their letters over the phone–sometimes twice. (I may have demanded a few photos of the letters.) I read my own notes from her dozens of times over, as if I might discover something new in one of them.
And let me assure you, even this exclamation point averse writer confesses that in a camp letter from a child, there cannot be too many. Bring on the exclamation points! The more the better. I think next year I might start awarding the girls marbles for every exclamation point.
I'd like to buy an exclamation point, Pat?
On the complete opposite end of the spectrum, her sister has inherited the "boy" letter writing habits that so many of you described to me regarding your sons.
Behold:
CAMP IS FUN.
I love Mom.
I love you.
Sage.
Yep.
That's it.
I spent more time addressing it than she did writing it, although she did make each letter in CAMP IS FUN a different color so there's that.
She also sent her Grandma and Papa a picture of an American Goldfinch she drew. It said American Goldfinch. She copied it from the postage stamp.
So when my car pulled closer and there Sage was, standing along side her Papa who was so eager to see her, he arrived even before my mother and I did in separate cars, it was the greatest relief to know I was just seconds away from her own stories and her own verbal exclamation points.
And yet she looked…I don't know. Stoic maybe? She wasn't smiling. At all.
I couldn't tell what she was feeling but there was no enthusiastic jumping up and down I think I had expected.
I rolled down the passenger side window. "Hey!" I yelled. "Remember me? Get over here and give me a hug!"
Sage ran around the car towards me and as I untethered myself from the seat belt and stepped out onto the gravel, she jumped high into my arms.
And immediately burst into tears.
"Oh sweetie!" I tried to comfort her. "What's wrong? Are you okay? I'm here now. I'm here."
I hugged her tight. I stroked her hair (when did it get so long?) but still, she sobbed silently into the crook of my neck.
"Did you miss me Sage? I'm here now. I'm here."
I felt her nod.
Oof, the guilt and pain of thinking she missed me so much. Who was I to have dropped off a seven-year-old for an entire week with only her sister, into the hands of strangers, as wonderful as they all seemed. Who was I to leave her on a bunk bed she could hardly climb down from alone, despite her insistence on taking the top? My heart was torn into little bits. Until at last she opened her mouth to speak.
"NO Mom," she finally spoke.  "That's not why I'm crying."
She could have added a duh, Mom to the end of that sentence.
"I'm crying because I don't want to leave!"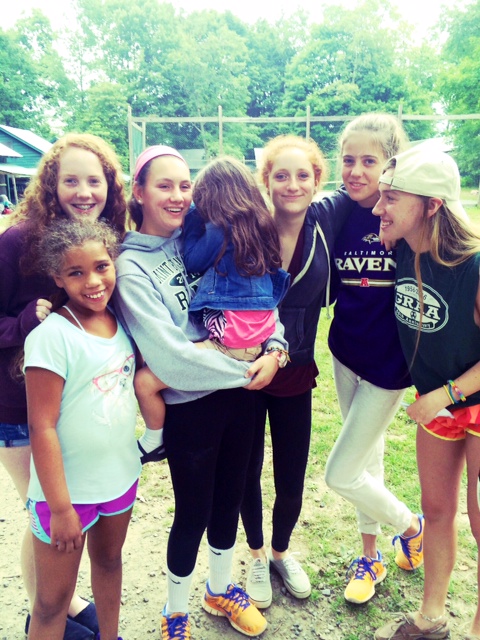 We passed her around from camper to camper for more teary goodbyes. She spent the longest time with the oldest girls who took to her like any cool thirteen-year-old with the ability to fall in love with a little kid who is light as a bag of air for easy picking-up and flinging around and comforting on the last day of camp.
As for her sister, I think we saw her for all of three minutes, after she bounded into her Papa's arms. The fact that Thalia couldn't wait to get back to friends or archery or the black-and-white cookies we had left on bed for the whole bunk was good enough for me.
If you love someone, set her free then try not to cry your eyes out in front of her. 
Yeah, they leave that part out.
Saturday night, home alone with me, Sage made me download Taps on my phone before she would go to sleep. We had to listen to about 20 damn MP3s which were all too long, too slow, too wrong, until finally we found the very exact one they played at camp. (Bless you Spotify.)
I hit play at precisely 2100 hours and wouldn't you know it, Sage went fast to sleep with the least fuss / temperature complaints / gratuitous water demands in history.
The next morning I let her sleep in late and go to the diner for breakfast in her pajamas – "just like they're doing at camp right now, Mom. That's what they do on Sundays."
Over pancakes with way too much syrup, Sage looked up and confessed, "you know Mom? I didn't actually miss you."
"Really? You wrote that you missed me on your card."
"No I didn't. I wrote that I love you. That's different."
It would have to be enough that I missed her.
"Also, you didn't play Reveille to wake me up this morning! You have to play it at 7:00! Don't forget to put it on your iPhone and do it tomorrow, okay?"
Just like camp.
Thanks Allan Sherman for the title. Your song still stands 50 years later, even if I had to explain the Ulysses reference.