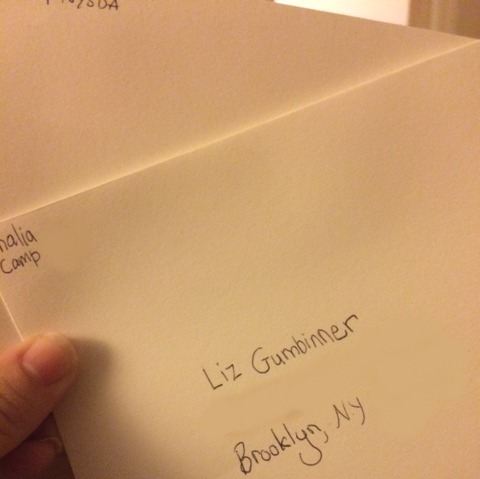 I'm cuddling on my bed with my girls, pens and envelopes strewn about the covers as I teach them how to address an envelope. I'm also trying to explain the difference between email and mail and why we need a stamp in the first place and why it costs $.49 to send a letter that could be free if we just used email already, besides, isn't that faster?
"There's no email at camp, sweetie." 
I don't know why the image of her 9-year-old hands carefully printing addresses of grandparents, friends–me–felt so emotional but the catch in my throat was significant enough that I didn't dare speak until I knew I could do so without crying.
Learning how to address an envelope is one of those milestones you never read about in the baby books, but it's so profound. It's a child's ability to communicate entirely without you.
The girls are off to sleep away camp for the first time, but it's not a long time. They have each other, and another friend too. They've visited the camp and already think they know just which bunk beds will be theirs. (Fat chance.) They have talked excitedly for weeks about the lake and the archery and the horseback riding and the singing and the campfires, with Sage asking questions like "What if I hate all the food?" And "What if we don't get the top bunk?" and "Are you sure the dress-up closet will be open?"
Whichever bed they get, they will live. If Sage eats nothing but bread and peanut butter all week, she will live. Same as I did.
Of course there are Twizzlers too. For the first time in my life, I managed to do something as proactive as drop the requisite care package at the post office in time for them to actually receive it before they leave. Tucking in the Mad Libs was the strangest part; 30-something years since my own camp experience, and the goodies we eagerly tear into on mail delivery days have changed very little.
What has changed is email. But there will be none of that.
As we put the last pre-addressed envelope back into the stationary box and closed it up, I realized this will be the first time I will have gone a whole week without speaking to them. I've hardly gone a single day without speaking to them, even when I travel abroad, even when they visit with other relatives. However for the next week, I have to live by the "no news is good news" theory of phone calls; holding my breath until next Saturday morning when I race back to the camp to see how they've grown, how they've matured, whether Sage has figured out how to get shampoo out of her hair by herself, whether they've made their beds each day, whether they got the suntan lotion on right, whether they leave with camp journals full of the names and numbers of new friends they may know for life.
But mostly, how they've grown.
I hope some of the letters we addressed make it out of the box and into the hands of the friendly local postal carrier. Selfishly, I hope the first one is to me.