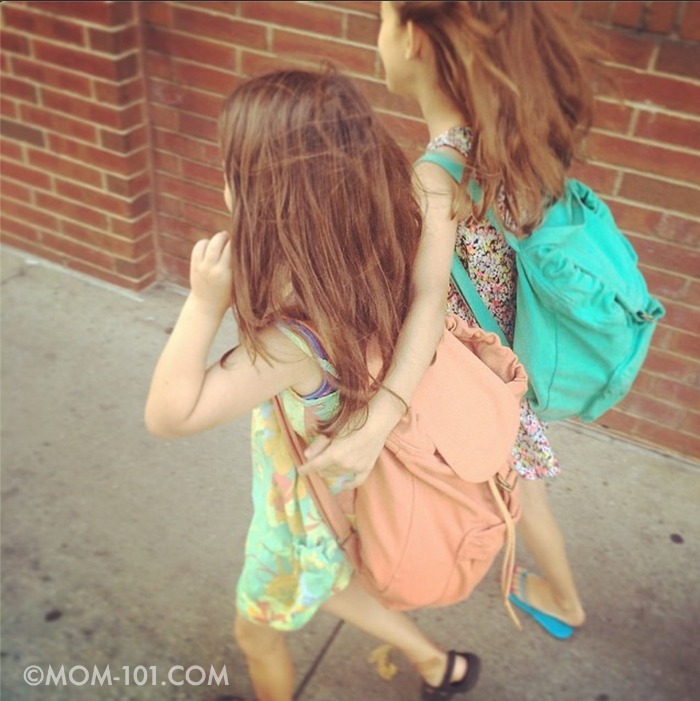 In June, to celebrate the last week of school, I let my kids walk to school by themselves. It's about a 3 minute walk, in which they pass roughly 800,000 friends and schoolmates (give or take) that they know. I debated about it for months, however.
My kids are highly responsible. The route to school involves no major streets to cross. They know how to look both ways and make eye contact with a driver at stop signs before they cross. They  know about stranger dangers. In the end, it seemed a sensible choice.
We did about 16 practice runs first, in which I walked behind them and pretended I wasn't there.  They were marvelous. (Or as marvelous as a child can be doing something as mundane as walking a few blocks.)  So when I sent them off that one morning–watching them the entire way, but don't tell them that–it was monumental. A big step for both of us. A major milestone crossed off, another one of the small freedoms a parent starts to bestow on a responsible tween who has earned it.
And yet I confess I was terrified to write about it here.
Absolutely panicked. 
Not because I feared for my children's safety, but because I feared how I'd be judged for my decision.
And now, look at us. Look at the news right now.
"It's a different world today," they keep repeating as they report about Nicole Gainey, a mother who is arrested for letting her 7-year-old walk to the park, at the same time Debra Harrell faces felony charges after her 9 year old played in a playground alone all day while she worked.
Yes.
It most certainly is.
It's a world with a 24/7 cable news cycle.
It's a world in which the media survives by creating the most sensational headlines possible, then throwing them at us all day long until our imaginations surpass reason and common sense.
It's a world in which 99.5% of people in the US will never be the victim of a violent crime.
It's a world in which fear of crime is at an all-time high despite actual crimes hitting new lows.
It's a world in which children playing alone have access to cell phones–or at least to kind strangers and neighbors who also have cell phones. No need to carry a quarter and hope a phone booth or a police call box is nearby in an emergency.
It's a world where another parent, seeing a child playing alone, is more interested in reporting the mother for criminal neglect and scoring Concerned Mom Points, than simply keeping a protective eye on the child, like any good adult might have done at one time.
It's a world where playground signs are written by lawyers who need to warn children that pushing another child "may cause injury."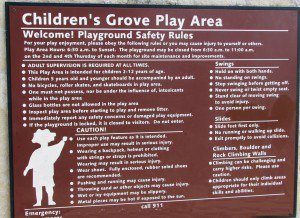 So yes, it's a different world today.
At 7 I was outside playing in the street with neighbor children by myself. We looked for cars. We didn't get hit by them.
At 8, I "walked to town" a half mile with my friend Ellen, and spent the afternoon window shopping and eating pizza. I bought my first article of clothing with my own money: A navy and white striped tube top for $2. (You could probably be arrested for letting your kid wear those now, too.)
At 9 I rode my bike to and from school every day, sometimes with my best friend Hally, sometimes alone.
At 10, I started taking the commuter rail into Manhattan to visit my dad every other Friday with my 8 year-old brother. On Sundays, we took it back home again.
Don't we all have a similar story of our own childhoods? Those childhoods in which crime was higher and cell phones didn't exist?
I don't always agree with Lenore Skenazy of Free-Range Kids on all things, but she is a voice of reason in this (and the source of so many of these links).  She puts child abductions in perspective, citing that the number of children reported missing each year is 800,000. Of them, one thousand are murdered by family members and acquaintances. 115 of them are abducted in stereotypical kidnapping by strangers for ransom and so on. That's  .13% of all missing children.
Or, that's .00015% of all children in the US, who are abducted by strangers.
The statistic doesn't make it any less horrific; that number should be 0. But it does make it less probable than we all probably imagine in our heads. I include myself here. Of course I think about worst-case scenarios in nearly all parenting choices I make. But I can't let it deter me from letting my children grow up. And so I push those thoughts out of my head, and slowly cut the strands of the proverbial cord, little by little, each day.
Parenting isn't just about holding on. It's knowing when to let go.
So you can imagine why I die a little when I see the plight of these mothers on TV, accused by their communities and local law enforcement of child neglect. Could that be me up on the TV screen? Posting bail? Defending my parenting choices? Or, if we can be brutally honest here, would I somehow get a pass for not being Black?
Regina Harrell looks like a smart, lovely 9-year-old. Dominic Gainey seems like a cool, level-headed 7-year-old. They are each the same age as my children. I would love it if one day, they all get to play in a park together sometime. Maybe even alone.
I bet they'd like each other.