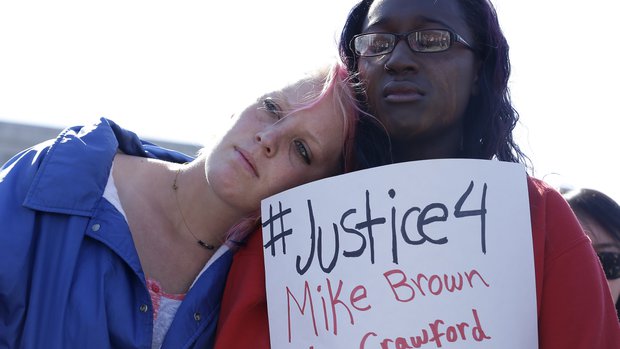 I haven't written here in 12 days. I'm fairly sure that's the longest stretch since I started the blog in 2006. While posting has become lighter over the past year as responsibilities change, children grow up, social media beckons, it still makes me twitchy to step away from Mom-101. And yet, I couldn't write. Not about some glorious family vacation memories, not about the funny things Sage is saying, not about the most perfect NYC weather in the history of all Augusts ever, and not about anything.
Because, Ferguson.
[top image via]
I learned about Michael Brown and the subsequent events in Ferguson, Missouri a little later than most. That's what happens when you're semi-unplugged in a vacation home with spotty WiFi. When I did catch the first eye-opening this-can't-be-happening tweet, I couldn't stop reading.
Squinting into my tiny iPhone screen when that one teeny little dot of a bar appeared in my signal icon, I scrolled through Twitter's live stream. And scrolled. And clicked. And favorited. And scrolled.
I cried.
I knew the next thing I had to write about was Ferguson. I couldn't do anything else here until I addressed it somehow. Like Trayvon Martin, I knew it was my problem. All of our problems. It was big, and important, and felt like next in line to inherit the thorny throne held by historic National tragedies like Montgomery and Kent State. Ferguson was happening now, live on the internet, punctuated by the sound of rubber bullets firing and tear gas canisters exploding and peaceful protestors crying, and countless members of the press risking their own safety to bring it all to us.
Other people wrote about it immediately, of course: What it meant. How it felt. Why it mattered.
They wrote must-read personal stories about being Black in America. They wrote riveting on-the-ground analysis. They uncovered facts. They shared the best journalists to follow on the ground in Ferguson.They shared the best links. They coordinated volunteers. They raised money to feed school children who ordinarily received free lunch and were going hungry.
They protested in their own ways. They got angry.  They got specific.  They got political. They got emotional. They offered observations I never would have thought of myself.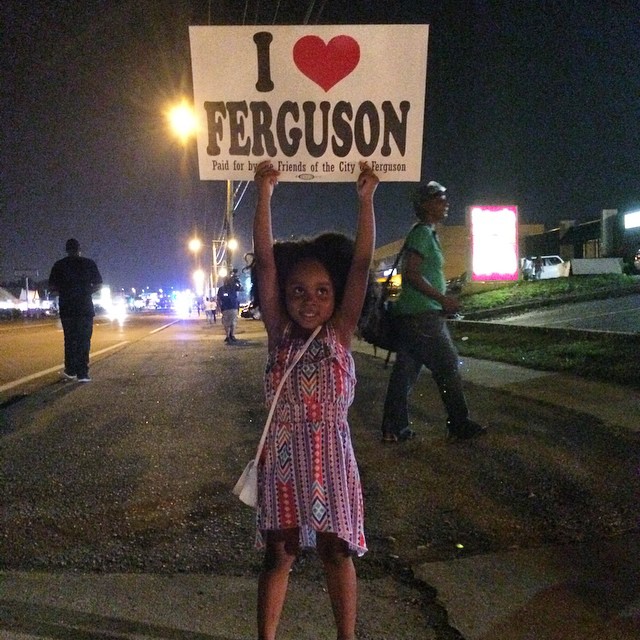 Photo by @jasari_x on Instagram
But the more that dozens–hundreds–of prolific writers said what they had to, the more I felt I had nothing to add. I stuck with retweets and link shares and favorites on Twitter. I posted briefly on Facebook, but nothing of real substance.
Like a friend you haven't called back for weeks which becomes months which astoundingly becomes years because no one dares to make the next move, I simply didn't write. I wanted to say the right thing about Ferguson. I had no right thing to say.
Then I realized that my silence, though not intended as silence, is not benign. It hurts.
Silence says more than it doesn't.
White people who give a shit about race need to talk about race. However awkwardly, however imperfectly, at whatever risk of getting it wrong. We have to start somewhere.
My own readers schooled me years ago, after I wrote about "wonderfully innocent colorblindness of children" by replying no, we are not colorblind, nor should we be. You were all, FAIL, Liz. It was hard, but I heard you. I internalized your constructive suggestions. And you forever changed how I approach discussions about race and inequality of all sorts with my children.
You made me a better parent because I wrote — with the very best of intentions — a very stupid thing.
We can't be afraid to fail. Not trying at all is far worse.
Here's another one: All week, my instinct has been to shout, "how can this be happening? How is this my America in 2014?"
But then I realized, only the white people are saying that.
Let's talk. Let's listen, too. Good things come of it.